Redmine Leaves Holidays
Make your Redmine a complete system for leaves management. Integrate your leaves approval with the system time tracking and increase the transparency of the process to everybody in your organization.
*includes one-year of updates
---
Description
This plugin allows you to automate the process of leave management which includes submittal as well as consulting and approval of leave request.
Features:
Users can take full or half days leave, for a custom time period. They can specify if the leave is AM and/or PM
Users can easily select a leave reason (Annual leave, sick leave…), and add a comment on their leave request
Users can see how many days they can book as leave, on a dedicated dashboard
Selected roles/users are notified when a user makes a leave request, or when a leave request status is updated
Administrators can manage (add, remove) leave reasons
Selected roles/users can manage (approve, reject), or be consulted for feedback (yes, no) on leave requests, depending on the user who made the leave request
Selected roles/users can view all approved leave requests
Selected roles/users can manage user preferences, generally or per user

User region, for computation of bank holidays
User weekly working hours
User maximum number of leave days per year
Leave renewal date for auto report of non taken leave days when this date is reached
Example of workflow: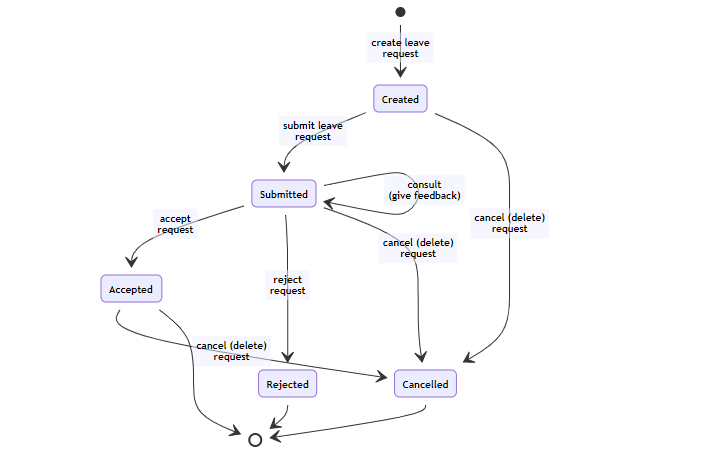 Screenshots: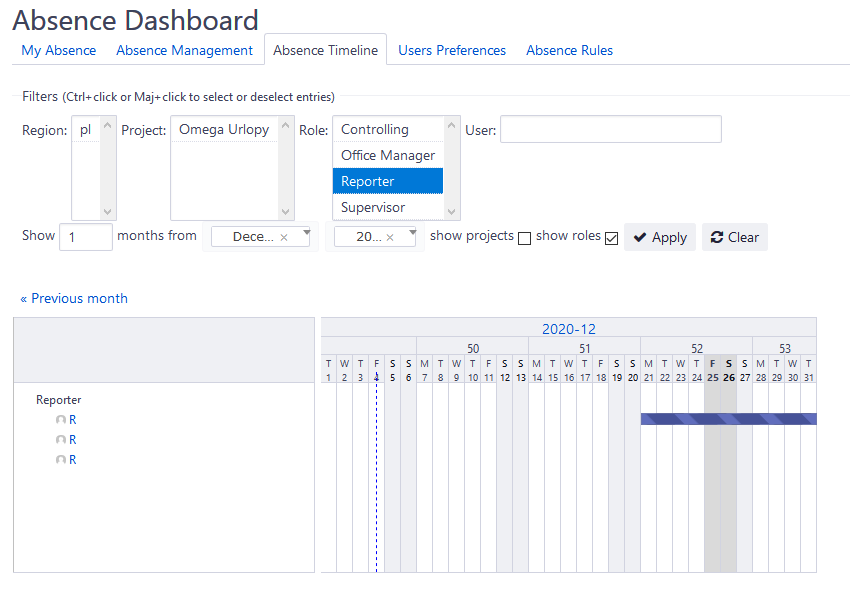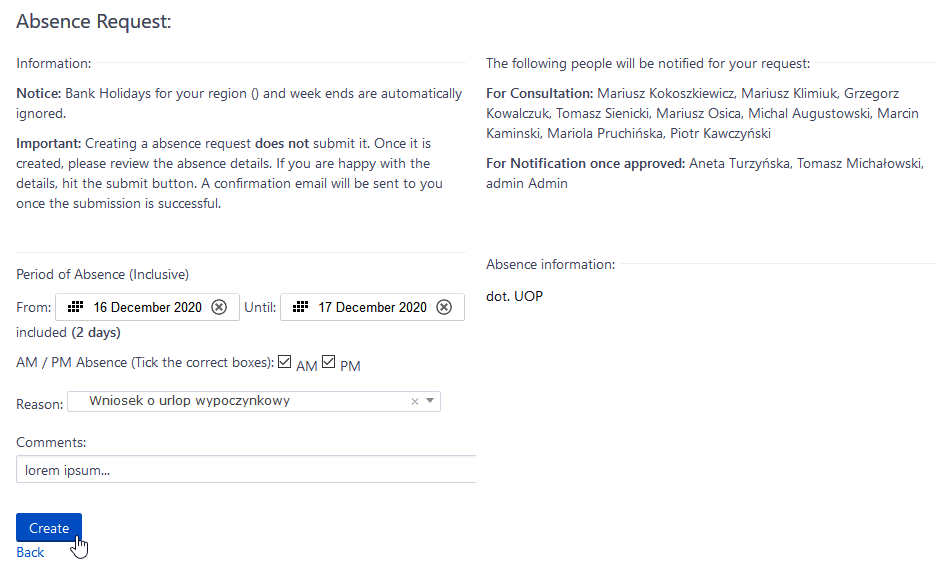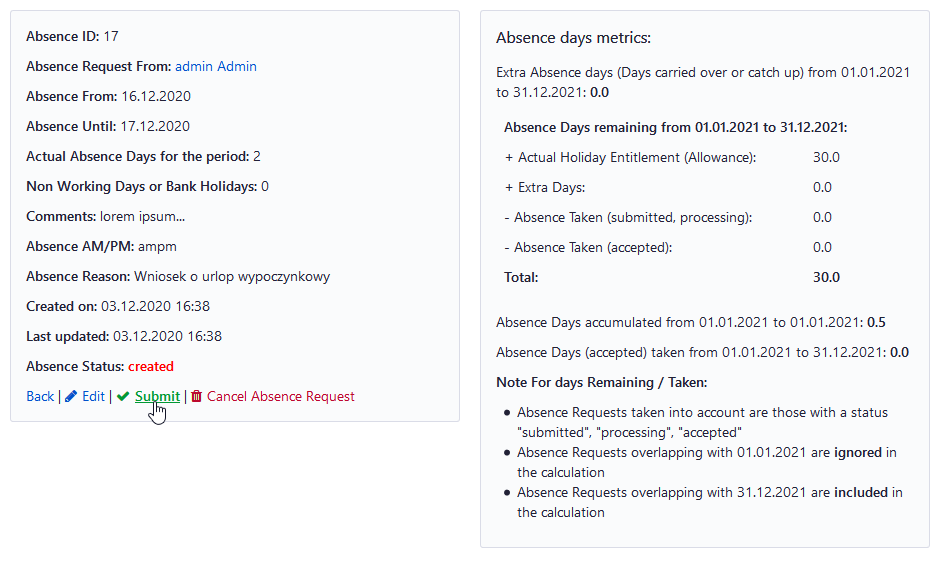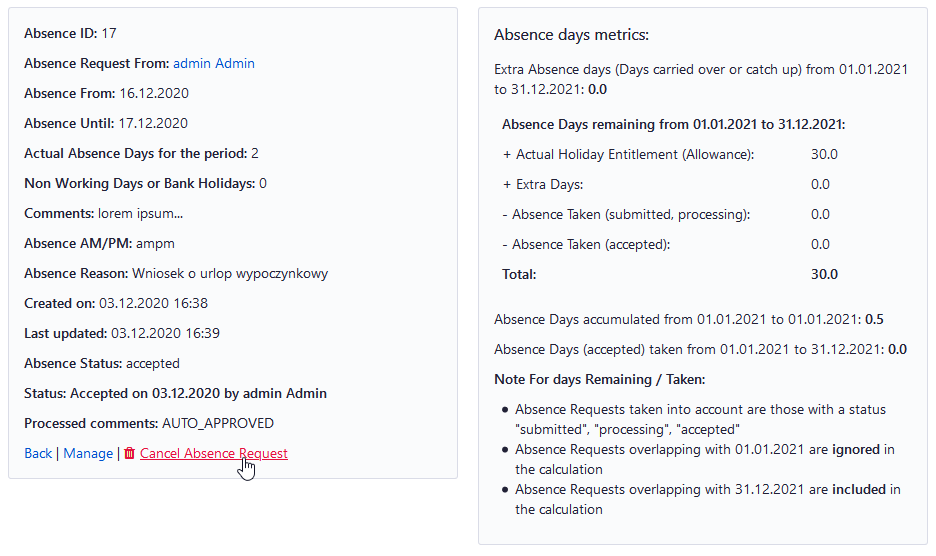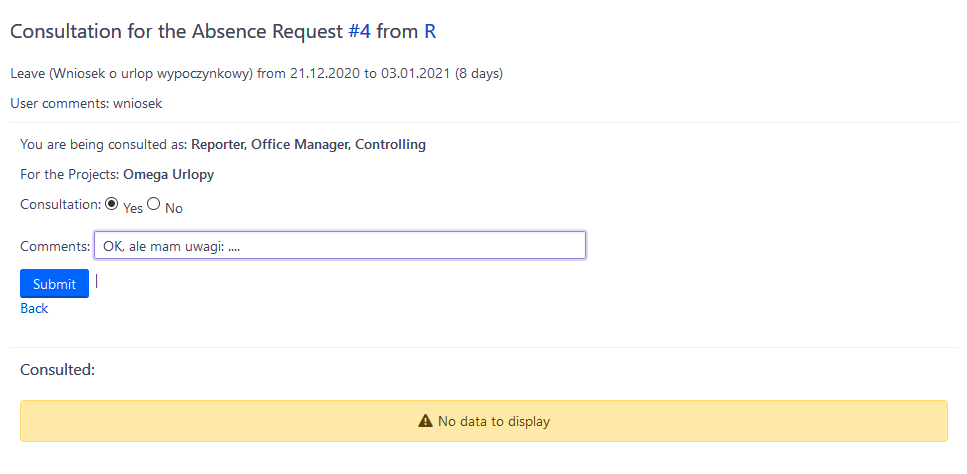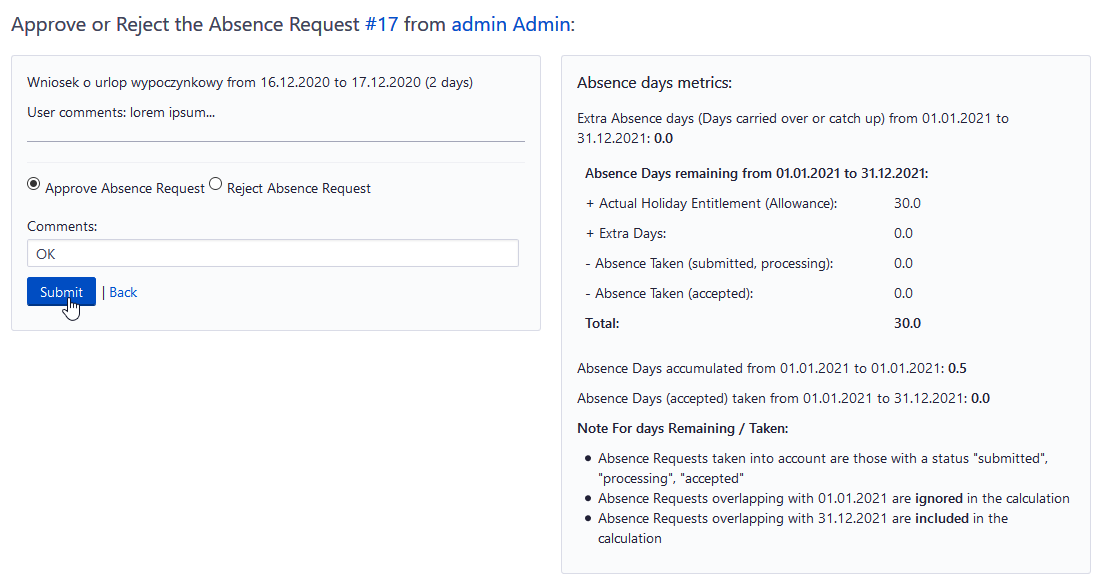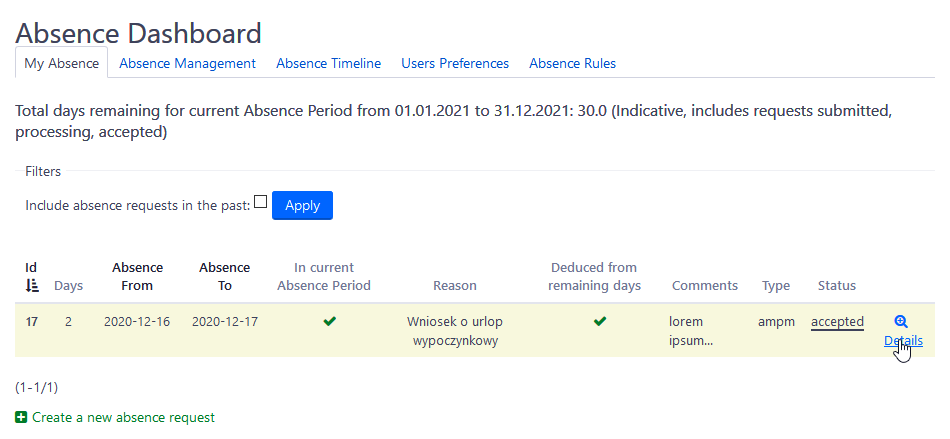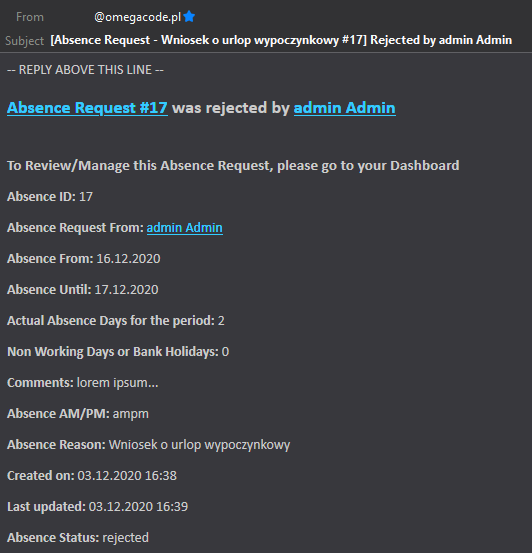 *includes one-year of updates
---
Setup instructions
Please ALWAYS make preliminary installation and tests of the plugin on development environment before proceeding to setup on production server.
1. Credits
Redmine Leaves Holidays is based on ste26054' magnificent work which was released to the community. Unfortunetly, project seems to be abandoned. We really liked it and decided to rewrite it, support it and make it even better with even more features (like improving UX).
2. Installation
Before processing it is recommended to backup your Redmine instance, both files and database (!)
Follow Redmine standard plugin installation steps:
Upload redmine_/ directory to plugins/ inside Redmine root directory.
From shell, still inside Redmine directory, run rake redmine:plugins:migrate
bundle install to install the required gems
Restart Redmine instance.
Open Redmine inside your browser.
2. Setup permissions
You need to configure selected Roles with the following permissions accordingly:

manage_user_leave_preferences: Manage specific user leave details such as:

is allowed to create leave requests
leave entitlement
contract start / end date
extra days

manage_leave_management_rules: Create / edit / delete leave management rules, at project level. This is used by the plugin to specify who is managed by who…

view_all_leave_requests: Allows to view all leave requests in the system, or get an email notification for any approved leave

manage leave rules: Allows to add custom fields for different types of leave requests

view_leave_timeline: Allows to see approved leaves on ganttt-like chart timline for convenience
3. Configure plugin
Set the following settings:
Part 1 are obligatory for plugin to work
Part 2 and Part 3 are optional
Settings regarding trainings are experimental for now and not supported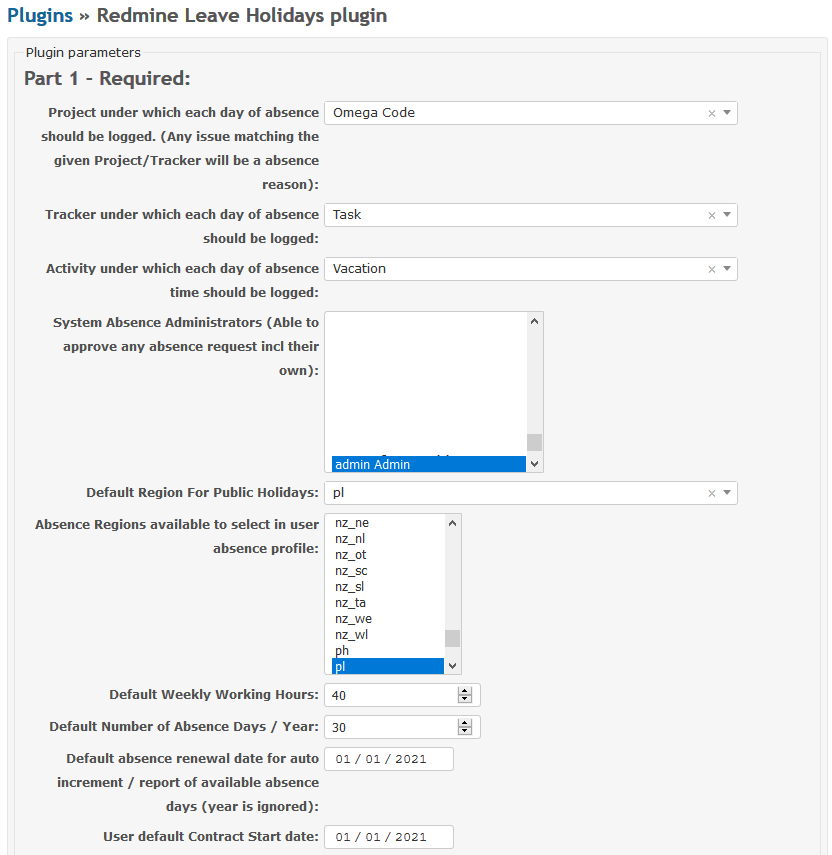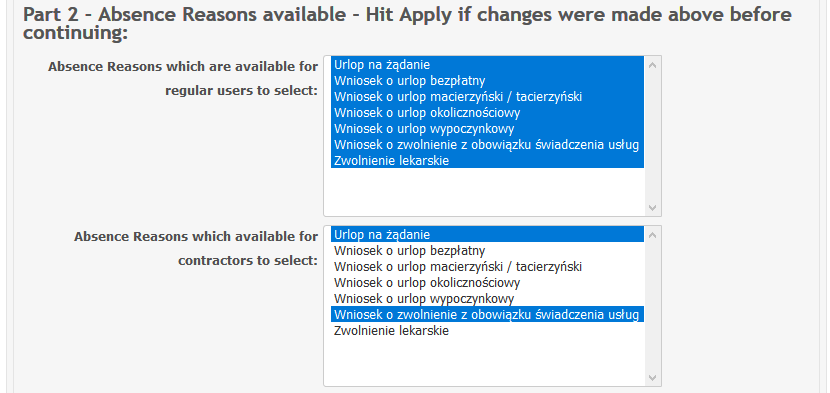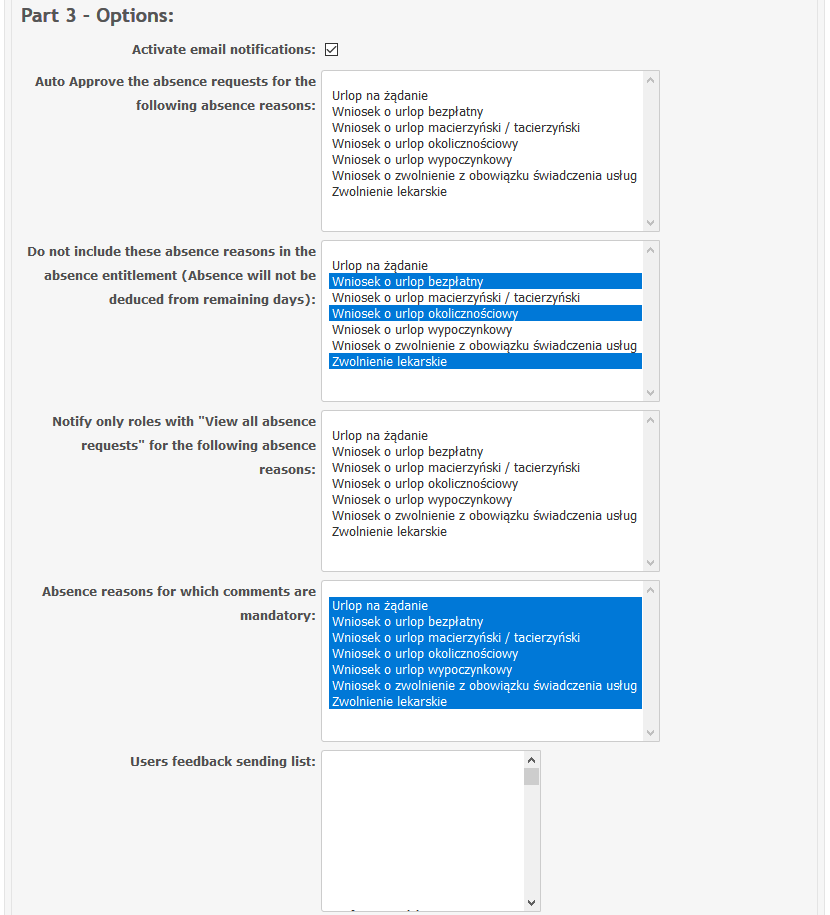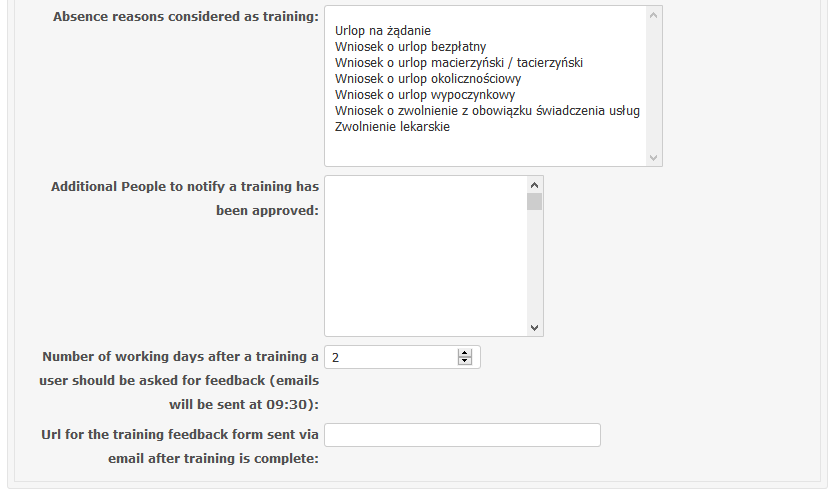 Then configure selected project dedicated for leaves management with your workflow: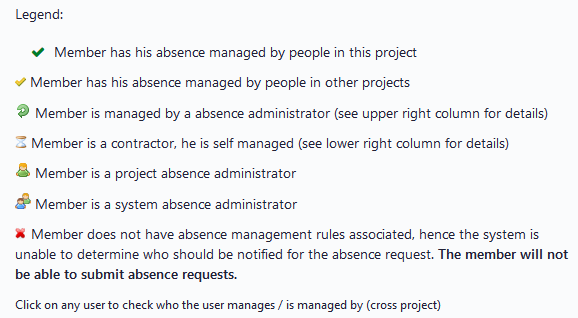 That's it! Please refer to description for further use of the plugin.
*includes one-year of updates
---
Changelog

26-02-2021 2.0.1
 - [Fix] Multiple issues with Redmine 4.1

10-02-2021 2.0.0
 - [Feature] Compatible with Redmine 3.4 and 4.1
 - [Fix] Set absence administrators had no effect
 - [Fix] Delete absence management rules had no effect

07-12-2020 1.0.4
 - [Fix] Ticket for leaves/holidays always inserted with 0 hours

06-11-2020 1.0.3
 - [Fix] Checkbox 'Show rejected' has no effect

05-11-2020 1.0.2
 - [Fix] Internal exceptions at multiple places


---
Any question about our plugins? Please e-mail us at:
We're open for your feedback and new features suggestions. There is always space for improvement!